We (Andy & Nicky) are a couple originally from the UK, but moved to France to live in 2010. We bought a house between the villages of Eymet, Lauzun and Miramont de Guyenne. We now have a house called 'Minerve' with 10 acres of land, and decided that one corner of the land would be perfect for some yurts. So we now have 2 luxury yurts in about 3 acres of land over looking the lovely French countryside. We both speak French as well as English so can help you with whatever you need while you are staying with us.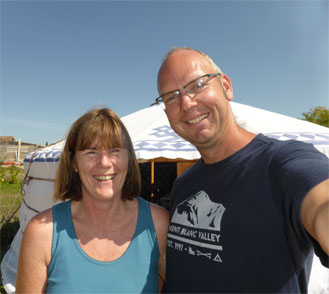 Our yurts are handmade, and were imported directly from Mongolia (by Gandan Yourte), so are the real thing. They are 6 meters in diameter, and have everything that you need for a relaxing holiday. They are of a wooden structure, and then are covered with 4 different layers in order to keep you warm/cool and dry. These include a thick felt insulation layer and also a 100% waterproof, but breathable layer.
In addition to the yurt, each area has its own separate wetroom outside of the yurt, with a 'proper' flushing toilet. You also have your very own separate private kitchen with all of the equipment that you would need, including a fridge freezer and cooker. Plus plenty of space around the yurt to relax and enjoy the peaceful countryside. There is also of course free wifi both inside and outside of the yurts.